Excitement filled the air as the procession of soon to be graduates filed into the Charles E. Smith Center on May 18 to be formally recognized for their hard work and dedication as the newest recipients of bachelor's and master's degree programs in the College of Professional Studies (CPS) and the Graduate School of Political Management (GSPM). Inspirational speakers and special award presentations contributed to the festivities, ending in a special charge to the graduates.
Many loved ones gathered at the ceremony to share the happiness of the day with the new graduates. A celebratory feeling filled the venue with upbeat music playing as the faculty, administration and distinguished guests followed the students into the venue led by Dr. Christopher J. Deering, interim dean of CPS and Dr. Lara Brown, director of GSPM.
Once all were seated the ceremony began with Toni Marsh, J.D., program director for the paralegal studies program, serving as College Marshall, kicking off the ceremony and introducing Dean Deering for his welcome (Video: 12:21).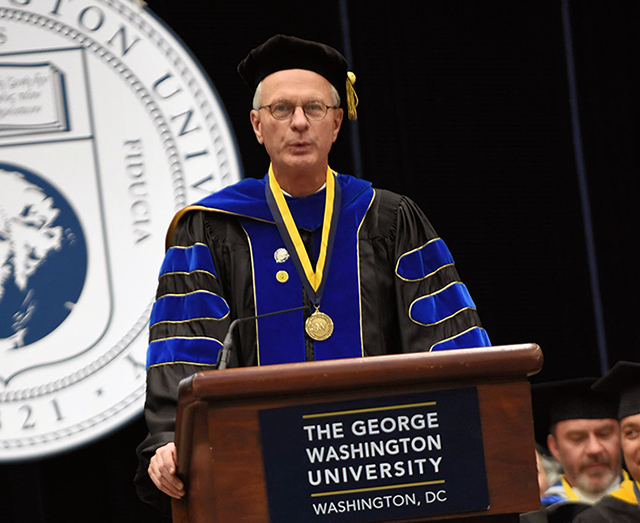 Dr. Deering said it has been a great year for the College and provided six brief examples to illustrate his point:
The Sustainable Urban Planning program has become fully accredited by the Planning Accreditation Board (PAB). This is a big deal; it puts us up with other elite institutions and distinguishes us from other unaccredited programs.
Dr. John Carruthers, program director for the Sustainable Urban Planning program, has received The GW Award, the highest award GW gives to faculty.
Larry Parnell, program director for the Strategic Public Relations program earned a citation for the most promising new textbook from the Textbook and Academic Author's Association.
Our Homeland Security master's degree program is rated #1 among online master's degree programs.
Our Cybersecurity Strategy & Information Management master's degree program is rated #3 among its peers.
For the second year in a row CPS has had semi-finalists in the New Venture entrepreneurship competition. This year a strategic public relations student in GSPM, Zhanar Kubekbai (CPS '20), was selected as a semifinalist while competing against 216 other teams.
The ceremony included the presentation of special awards, remarks by a distinguished speaker and alumnus, Dr. Michael Weiner, Chief Medical Officer, MAXIMUS Inc., and a student address by Edward Charles Garcia, Jr., a Legislative Affairs Program graduate.
Distinguished Speaker: Dr. Michael Weiner, Chief Medical Officer, MAXIMUS Inc.
Dean Deering introduced Dr. Weiner, the Distinguished Speaker (Video: 16:50-29:14), who asked the graduates to do two things. Weiner, now a board-certified Internal Medicine physician with more than 25 years of experience in the clinical and technology fields, also served in the military and was the first in his family to go to college.
He knows, as a GW graduate who, like many of them, worked full-time while going to school, that they dreamed big, stayed up late and worked hard to get through to the end. He asked the graduates to "Continue to be incredible." He said they have already done that by making it to Commencement.
Secondly, he asked them, rather challenged them to "Make a difference." He told them he spent 28 years as an internal medicine physician. We all know how the story ends. How will you spend your 1,440 minutes each day?
Presentation of Awards
Christopher Maclauchlan (Police and Security Studies), Dr. Richard F. Southby Police Science Prize (Video: 29:16-31:47);
David Gargaro (Political Management, GSPM), Founding Dean Arterton Award (Video:31:47-35:36);
Desiree Antoinette Dillehay (Strategic Public Relations, GSPM), Mark and Debbie Kennedy Frontiers of Freedom Award (Video:35:37-37:55);
Dan Arthur Titus, Jr. (Integrated Information, Science and Technology), Undergraduate College of Professional Studies Distinguished Scholar Award (Video: 37:55-39:32);
Josephine E. Sciortino (Publishing), Graduate College of Professional Studies Distinguished Scholar Award (Video: 39:33-42:31);
Diane Norris Morgan (Paralegal Studies), College of Professional Studies Faculty Excellence Award (Video:42:31-45:25).
Student Speaker: Edward C. Garcia, Legislative Affairs Program / GSPM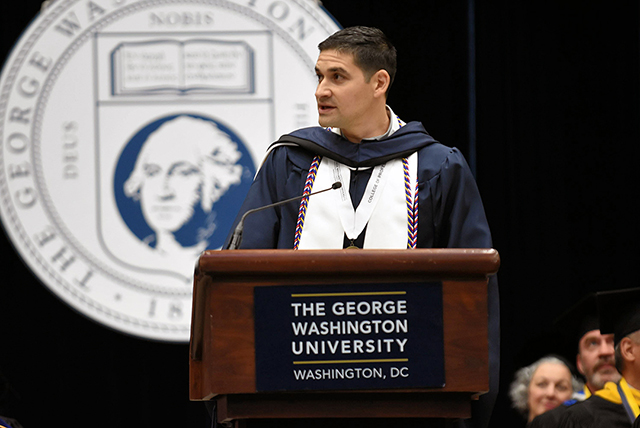 Edward C. Garcia (Video: 45:26—54:11), the 2019 student speaker, called on graduates to work hard throughout their lives. Hard work is familiar to him after serving for 19 years in the military (six combat deployments), earning three degrees, owning a small business, being a fellow in the U.S. House of Representatives, and fulfilling his personal roles as husband and father.
"Ninety-five percent of what gets done in the world is showing up, volunteering and putting in the work," he said. He recognized the importance of his loving family in his life. "Life, my friend, is a series of obstacles and on the other side of those obstacles is a reward waiting to be claimed."
The ceremony included the official Presentation of the Graduates (Video: 54:12-1:38:51), with each student's name being read as they crossed the stage. While more than 450 graduates attended the annual Commencement ceremony, this was only a portion of approximately 600 students who graduated during the fall, spring and summer semesters. Additionally, the ceremony was livestreamed to many more online.
A noteworthy moment, unique to this year's Commencement, was the awarding of an Honorary Degree to Nancy Tappan, a well-respected student in the Sustainable Urban Planning master's degree program. The university decided to posthumously award her an honorary degree when it became clear her health wouldn't allow her to return to school to finish the very end of her degree. Her daughter, Laura Tappan, received the degree on her behalf at Commencement. (Video: 1:07:29-1:09:23).
Following the presentation of graduates, Dean Deering (Video:1:39:07-1:46:49) concluded the ceremony by congratulating the graduates, award winners and thanking the speakers, the faculty, and the event staff. He asked the graduates to consider the true meaning of professional and personal success and issued a six-part Charge to the Graduates:
Apply your knowledge – This includes using your knowledge in your profession and to improve the world around you.
Serve your communities –Pay it forward, do good, find a way to give back (Coach your kid's soccer team, pick up trash, become an elections monitor, found an organization or invent something that serves the common good.)
Engage in life-long learning.
Don't be afraid to fail. This advice is often given by artists, entrepreneurs, inventors and scientists. Listen to Yoda.
Embrace and practice civility.
"Seek truth but be wary if you think you've found it.
He ended the Charge to the 2019 graduates by saying "Do your best to uphold these memorable values and this advice I have offered you. I have no doubt you will make us all very proud. Congratulations, raise high, and back to work (as he swapped his formal hat for a GW baseball cap)!!"

The ceremony ended joyously with the singing of the Alma Mater and a briskly paced recessional.
---