What impact is climate change having on Bangladesh and why is this significant? Ten students from GW's Sustainable Urban Planning (SUP) master's degree program gathered first-hand observations to answer these questions during a ten-day, study abroad trip in February. The group, co-led by faculty members Dr. John Carruthers and Andrew Bernish, went to study climate change adaptation and mitigation strategies.
While in Bangladesh the students were able to observe the impact climate change is having on 160 million people in one of the most vulnerable countries in the world by:
Surveying cyclone damage;
Meeting with climate refugees who lost their village homes due to destruction by cyclones;
Learning from public officials working on climate change issues;
Traveling to several parts of the country to observe the impact of climate issues.
One of the highlights of their trip was visiting the Bay of Bengal by boat, where they were able to see problems caused by salt water intrusion and the rise of sea water levels. The visit included an excursion to the Sundarbans mangrove forest, adjacent to the Bay of Bengal, a designated UNESCO World Heritage Site. The Sundarbans is a significant example of ecological processes including monsoon rains, flooding, delta formation, tidal influence and plant colonization. Additionally, the area supports an exceptionally high level of biodiversity, including endangered plants and animals like the Bengal tiger.

The trip was facilitated by GW's partner, the International Center for Climate Change and Development, who helped organize the trip, teach the students and accompany the delegation around the country. Their director, Saleem Huq, is also a member of SUP's Advisory Board.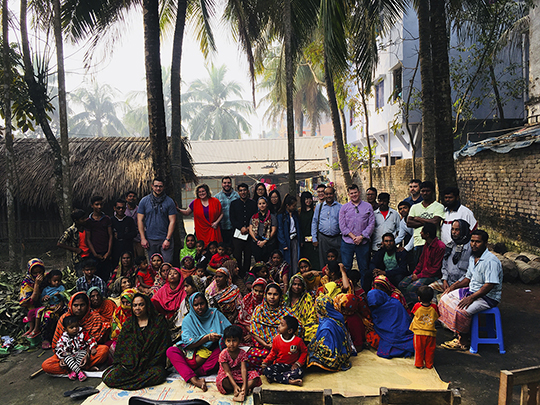 GW delegation met with climate refugees in Bhulma, Bangladesh during the February 2018 study abroad trip. The refugees have been displaced from their village homes into the cities by cyclones.

The students gave final presentations and wrote blogs on a variety of chosen topics, such as refugees, sea level and environmental quality. Their presentations were given at the Bangladesh Urban Forum, an NGO, with an audience of academics and others interested in climate change issues.

The students and faculty were excited to be part of the program's first study abroad trip to Bangladesh. SUP faculty have previously taken student groups to Korea and are planning a new study abroad trip to Kazakhstan this summer.